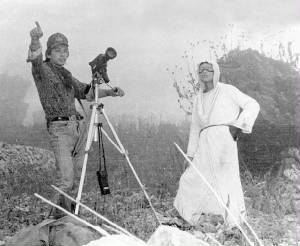 I can't make good visual images without a tripod. Shot was taken while I was shooting an indie with my brother Lito acting as my subject in "Hinterlands".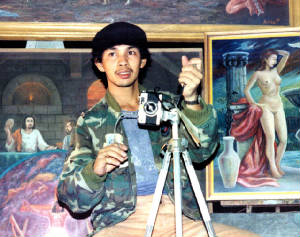 ..there's more to a picture than meet the eye.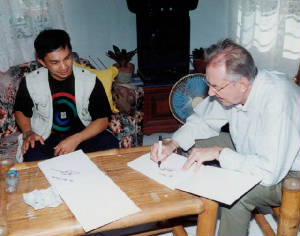 I collect books worth reading, Here, Author Bill Wallace signs a book for my two daughters.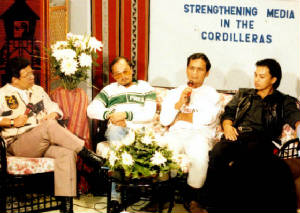 I first guested in a live national tv show in 1989 when the People's Television Network-PTV-4 had its first broadcast in Baguio. Using studio to transmitter link (STL), audio-video signals was beamed from this studio to Manila transmitters via PLDT microwave. Shown in photo is Omar Orsolino, Peppot Ilagan, Roger Mercado and myself. Among the four, I am the green apple.
TV hosting has become a challenge to me as I still haven't overcome my stage fright. One anchorperson once said; "nothing beats hard work" so I try to know and internalize my subject matter very well.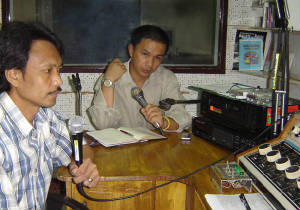 AM Radio Broadcast - Since December 2003, one of my function as media specialist of the Department of Trade and Industry-CAR is to co-anchor and coordinate with guests for a public affairs program on livelihood.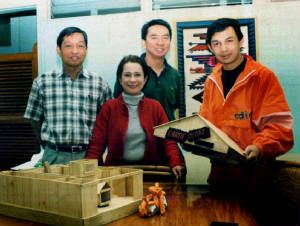 Here, I am shown presenting a scale model of an earthquake museum to executives of an eco-tourism firm in my area. I still look forward to a time when this concept will be realized and make an impact as an edutainment package.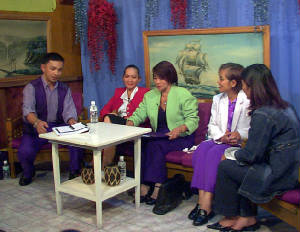 I do not really want to do a larry King as I am not a carpenter of words. Here, photo shows me anchoring a local talk show with members of Baguio's Child Abuse Unit (CAU).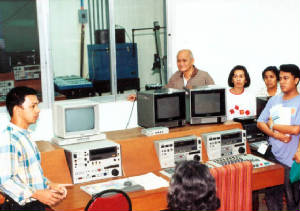 During a screen education seminar in Baguio, I am shown explaining to teachers how editors splice raw footages and assemble the same into one tape using the U-matic editing machine. Ben Pinga, the the grand old Father of Filipino Documentary Filmmakers is also shown watching.
When the July 16 1990 earthquake struck north Philippines, I was called by NEDA Director Joseph Alabanza to do an aerial shot and gather video footages of the quake damages. Unluckily, my only video tape on the coverage was borrowed by an ABS-CBN producer and it was later nowhere to be found. It was a hard lesson learned-never lend out your original material.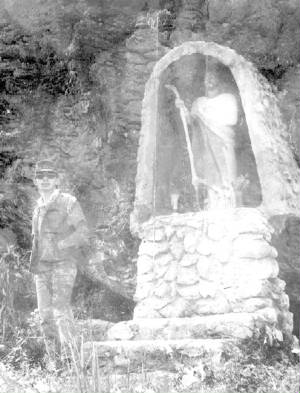 My first and last three dimensional work....a 5ft. sculpture of St. Joseph. It is still standing in Barangay Irisan, Baguio City where the saint is its patron.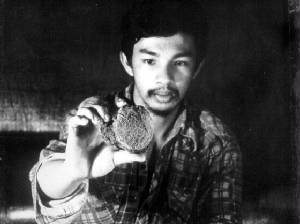 I realized that I am living in a place that was once under a sea as proven by this fossilized mussel that I dug in the vicinity of Baguio. Baguio's elevation is 5,200 feet above sea level.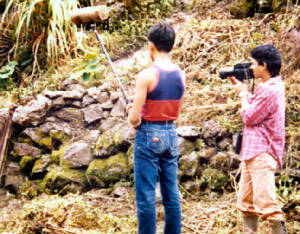 Me and my brother Lito while shooting "Camote Miners" in 1984. This Super-8 film project won me second and third place in the 1985 Experimental Cinema of the Philippines and Manila Film Festival documentary category respectively.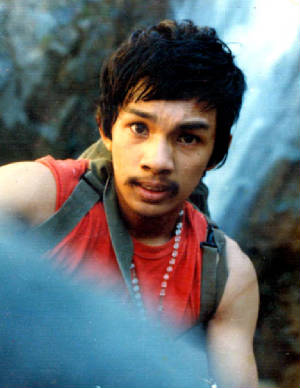 At age 23, hydrophobia was not in my vocabulary. Shot was taken in Camp 7 (double falls) Hydo in Tuba, Benguet