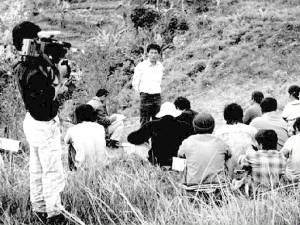 This 1988 photo shows me covering a public consultation on whether the Cordillera people would favor an autonomous form of government or not.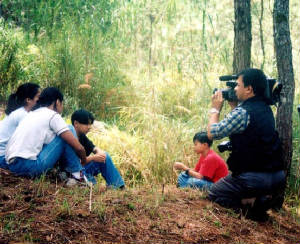 We did a short video production on the Eco-Walk Program that we started sometime in 1992. This environmental awareness and value formation program won the prestigious Global 500 award by the United Nations Environmental Programme (UNEP) in 2002.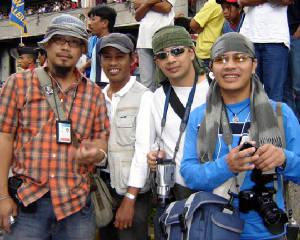 These are the usual faces seen during big events in Baguio....press photographers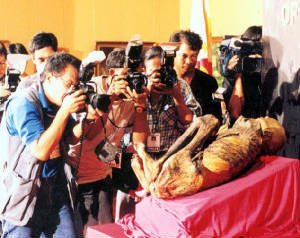 Return of the missing mummy- I never imagined that a human carcass such as this of "Apo Anno" can draw papparazzis to the National Museum. Apo Anno was finally returned to his original resting place in Sitio Nabalikong of Buguias, Benguet in 1998.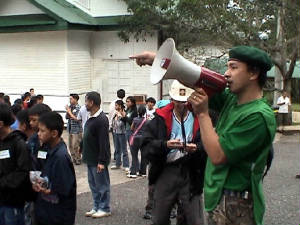 Eco Warrior's Powwow- In April 2004, I led about 300 schoolers and their teachers to the Voice of America grounds in Camp John Hay where a concert and environment advocacy activities was held.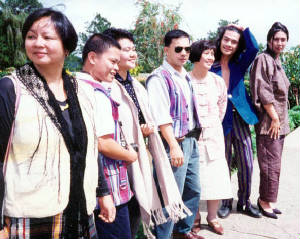 With my team of Inabel fashion designers.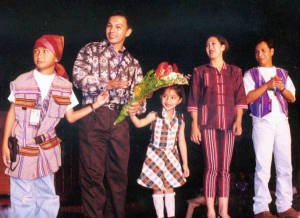 My first stint in fashion design using hand woven fabric wasn't bad at all considering the promotion that it generated in helping local weavers sell their trade. At least the Baguio Convention Center was jam packed by residents who wanted to see their relative on the cat walk. Shown with me on the ramp are Beau Estepa, my daughter Tam Jewel Tibaldo, Marrionne Molintas and Pigeon Lobien.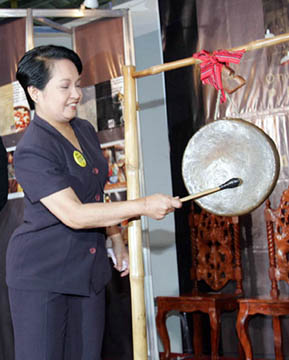 This gong has a story to tell
Used by President Gloria Macapagal-Arroyo to open the 1st OTOP Trade Fair at SM Megamall, this gong made of brass has survived a building fire, was partly melted and deformed, sold as scrap to a junk shop and restored to its original shape.